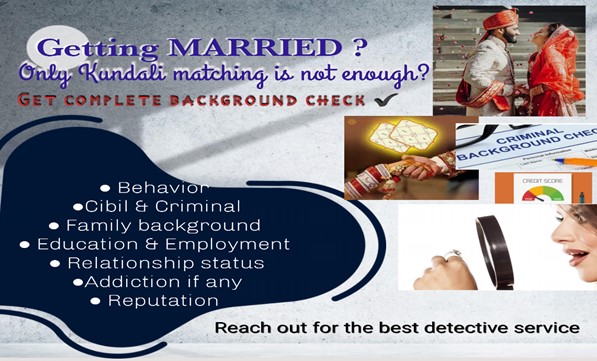 3 January, 2023

By Amrita
Marriage is considered one of the most momentous events in one's life. Every parent always wants to ensure that the Bride and Groom are suitable for each other and can have a successful married life. Kundali matching system has been an essential part of marriages since ancient times. Th main purpose of matching the horoscope and kundali of both potential bride and groom is to check the compatibility and predict for the unfortunate events……...…...And one cannot rely only on Kundali for the future prediction.
We came across many cases of post-matrimonial investigation where family claimed that they had done all kinds of astrological matching but unfortunately XYZ fact was not know to them and the couple are having rough MARRIED LIFE. In India, many families undergo an array of rituals that seems favorable to them. Some parents forcefully lure their children into arranged marriages. Some couples in bliss of teenage love make their own decision to get married. Hence, this not only causes major mishaps between the married couples later but also destroys the life of their children. There could be so many reasons why marriages tend to take the road of TURMOIL. Many of them can be figured out before marriages with proper check.
So, the conclusion is pre-matrimonial check is equally important as the Kundali match. Complete screening of the prospective bride- groom is highly important these days.
A pre-matrimonial background check done with RAAGAM Consulting can give you details on various aspects –
√ Behavior and Conduct
√ Criminal and Litigation records
√ Financial stability
√ Marital and Relationship status
√ Addiction to drugs, alcohol or drinking
√ Family background
√ Any health issues
So don't wait for problems to pop up..
Have complete Background Check done before entering into a new married life.. Talk to RAAGAM CONSULTING for the best detective service
Call : +91-8600003557
Email : support@raagamconsulting.com
Website : www.raagamconsulting.com