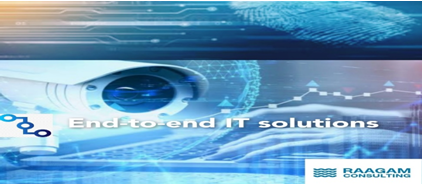 End-to-end solution considerably reduces hassle, price, resources and most importantly time and hence ensure leading class performance in terms of price, compliance, outcome , insights and increases the quality and speed of execution.
CCTV and Biometrics both are essentially endpoint solutions that are taking good position and migrating from stand-alone deployments for authentication process to larger personal identity solutions that depend on integrated systems to be majorly effective. The biometrics future itself holds additional revenue opportunities for integrators. These biometric systems are classifying from government-mandated identity cards and border security systems into commercial enterprise, schools, colleges, and home security markets.
Raagam Consulting provides end-to-end solutions in Video surveillance, Access control and integrated building management and security i.e offering 360-degree innovative IT solutions which is designed to reduce your costs, increase your business profits and mitigate your business risks, we partner with you as your Virtual IT Department, allowing you to focus completely on running your business, leaving security technology our part. Our years of experience in project management coupled with the ability to think, initiate, strategize, implement, and evaluate customer's needs has enabled us to provide our customers with practical IT solutions tailored as per each individual client's demand or requirements.
For quick, reliable and 360-degree end-to-end IT security services in pune, reach us today.
Call on: +91-8600003557/8600003559.
Mail: support@raagamconsulting.com