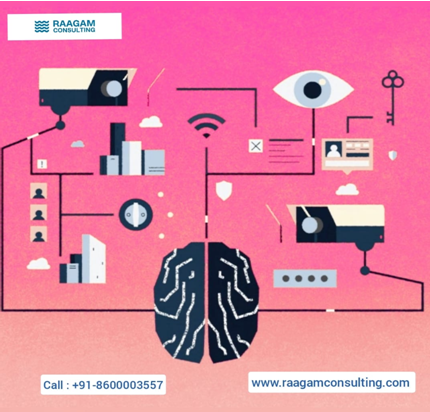 4 November, 2022

By Amrita
AI Security Camera – An AI security camera is a specialized network IP camera that has built-in AI (Artificial Intelligence) software.
Let us explain you what happens when DIGITAL EYES get BRAIN to match with and deliver result.
Like the digital eyes (CCTV devices) has been of great help which acts as a deterrence or provides evidence of the action. Similarly, Brain here (Artificial Intelligence) is great at identifying what's going on in a video at a fairly high level.
We are nowhere very near to the point where a computer can understand what it sees in the video captured by the CCTV devices like humans. AI enabled CCTV can give you footages of high resolution and analyze the footages from camera in order to recognize humans, objects or vehicles that display out of normal pattern behavior.
Currently we use AI to increase the capabilities of camera detection and in improvement of operational efficiency.
RAAGAM CONSULTING can help you in improving your CCTV system with high end technology to –
* Detect and Deter Crime
* Monitor Workplace Compliance
We just don't' want you to be 'FREE' rather we want you to 'FEEL FREE'.
Talk To Us Today -
Hotline : +91-8600003557
Email : support@raagamconsulting.com
Website : www.raagamconsulting.com