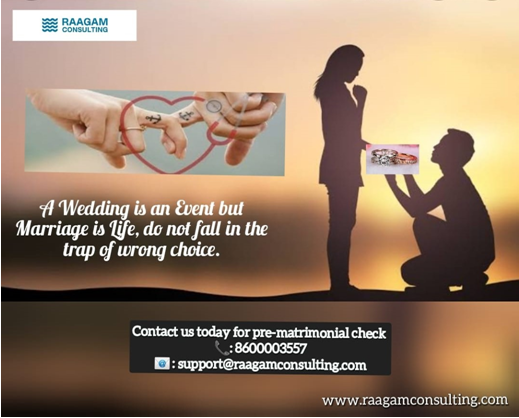 12 September, 2022

By Amrita
It feels so good to hear the wedding bells! But what if the sound of the bells after an event becomes a lifetime torture. Being alert and cautious in choosing a right life partner is must.
Another name of Perfection is an illusion. Nobody in the world is perfect but someone can be perfect for you for your whole life. A life partner is the one with whom one envisions a lifetime of togetherness with full of highs and lows. This is one of the most important decisions of life which must be taken judiciously. Leaving behind the excuse of social stigma of not performing pre-matrimonial investigation is equally very important. None of the society take responsibility when you have drained relationship. So don't let a society influence your choice.
You are going to be with the person you choose 24/7 for years, having kids with him/her, raising kids with him/her, socializing with his/her family and friends.
It's very common as well as easy for people nowadays to fail to reveal important truth/information about their backgrounds or to lie about it. Maybe they don't always have any nefarious purpose but they are just afraid of proposal breakup. It is not the right way then; kind of these people must be exposed because one has complete right to make fully informed decisions about the concern person and family. It is always good to have whole knowledge for a prenuptial agreement.
We RAAGAM Consulting have legal panel also involving top most lawyers who are dealing with legal cases of divorce and cheating in relationship. We have seen tremendous rise in divorce cases in India where many marriages fail only because of inadequate knowledge about the husband /wife regarding their behavior, nature, education, employment, criminal history, prior relationships and etc.
Check @www.raagamconsulting.com
Email: supprt@raagamconsulting.com
Call: 8600003557
Available 24/7