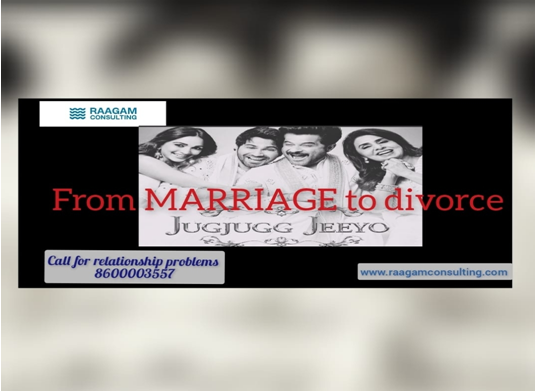 19 August, 2022

By Amrita
Recently a Bollywood movie released, Jug Jug Jio which is a family drama and complete story is on husband-and-wife relationships. How whether it's an arranged marriage or love one, gets into dry love at the later stage. The two generations where the old generation couple heads for divorce due to INFIDELITY and the younger generation couple due to EGO clashes.
In a lighter note, film director Raj Mehta has shown the story of the married life of two different generations of Anil Kapoor and Neetu Singh Kapoorand Varun Dhawan and Kiara Advani, turns into a betrayed relationship. The film Laughing relates gives an important message regarding Marriage and Married life. A dialogue in between of the film says, "it goes on till one year of marriage that something has gone wrong, we don't get a chance to become husband and wife, we would have become parents. And then when children grow up and settle down, we return to the role of husband and wife where the married relationship becomes a habit…. It's a completely wrong statement and every parent either of son or daughter needs to understand till the time two people in married life are not adjusted or finding compatibility the relationship goes on verge of BREAK. The time has changed so is the responsibilities, way of thinking and lifestyle.
There are many factors which lead to a curse relationship like, pressure on couples to have child after marriage, if a wife earns more, then she is a guilt, male domination mindset, infidelity and the list goes on.
In today's era, there is a tremendous of confusion among the youth regarding marriages happening. They see lot of love marriages are dying on divorce in very small time, while there are examples of arranged marriages where couples are playing a marriage like a machine without any love just to maintain the dignity in society. Perhaps this is a big reason when it comes to marriage, the restlessness of the youngsters increases and they are opting for being single.
But we together can change the prevailing circumstances. There is a dire need to have:
*Pre-marriage investigation to know about the prospective groom's/ bride's background.
*Pre-marriage counselling plays a major role in understanding the new to be husband & wife.
*Counselling post-marriage also helps when relationship is not going well.
DIVORCE is not the solution always, sometimes Patience, Understanding, Putting EGO aside and working out in relationship with the help of professionals counselling services in Pune brings wonders!
We RAAGAM Consulting thrive to help people suffering in their relationship with personal touch and in discreet manner.
Call: +91-8600003557
Email: supprt@raagamconsulting.com
Website: www.raagamconsulting.com